Got a big audition coming up? An important speech? Or do you just want to speak the Shakespearean speech, trippingly on the tongue?
I offer private monologue coaching for actors at every level of expertise.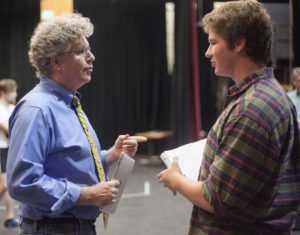 I can help you activate Shakespeare's language and find the monologue that's right for you. No phony posturing, no attempts to mimic what Shakespeare should sound like – just exercises that make the text come alive using your voice.
---
"Austin has the uncanny ability to get to the heart of a text and helps you, the actor, do the same. Also, he's delightful! Working with him is FUN!"
---
I've taught workshops all over the world and served as adjunct or visiting professor of Theatre at Rivier University and Plymouth State College in New Hampshire, Pacific University in Oregon, Valparaiso University in Indiana, and Northern Illinois University.
---
"Every rehearsal was a master class in Shakespeare's techniques, comic timing, and balancing pathos with pratfalls. In class, [Austin] challenged all his students with innovative assignments while helping each one find their artistic voice."
---
Check out what some other talented folks have said about working with me.
Contact me for rates and further information!