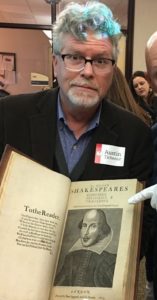 A lecture series hosted by Austin Tichenor of the Reduced Shakespeare Company (that's me!), featuring voices from around the world — especially yours.
Once a month, I'll present an online talk about Shakespeare in our lives and culture, followed by conversation and live Q&A with special guests. Patreon supporters get sneak previews, backstage access, premium content, customized perks, private lectures, and sonnets and songs singing your praises! 
It's a book club. A study group. A chance to nerd out with fellow Shakespeareans.