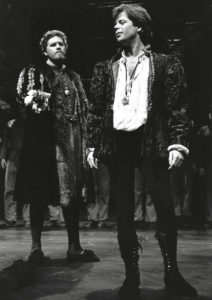 I just realized: I might have acted in more Shakespeare during this pandemic than in my entire career so far!
Despite 2020 being such an extended time of inactivity, I had the most acting Shakespeareances in a short amount of time, thanks to The Show Must Go Online, founded by Rob Myles and Sarah Peachey in the early days of the pandemic. TSMGO created full-length Zoom productions of all of Shakespeare's plays, one a week, in the order they were written. It's an extraordinary achievement (that I wrote about for the Folger Shakespeare Library) and an invaluable archive of the complete texts, each given incredibly intelligent readings.
For TSMGO, I played:
Before 2020 I played:
the Prince of Aragon in The Merchant of Venice for the Back Room Shakespeare Project;
Claudius in both Hamlet in grad school and Rosencrantz & Guildenstern Are Dead in summer stock;
countless parody versions of Hamet in various RSC shows; and, of course,
all of Shakespeare's Complete Works, including his Long Lost First Play.

As Duke Senior in The Show Must Go Online production of AS YOU LIKE IT, directed by Rob Myles. 2020.
Since I've done so many Hamlets, I can't wait for things to open up again so I can finally tour our comedy prequel, Hamlet's Big Adventure!