Do you have an easy answer? I don't!
I have favorite productions, sure.
The Taming of the Shrew, American Conservatory Theatre, 1976
Hamlet, Berkeley Shakespeare Festival, 1982
Pericles, Royal Shakespeare Company, 1989
Fleetwood Macbeth, Troubador Theatre Company, 2011
Henry IV, Part 1, Oregon Shakespeare Festival, 2017
Love's Labor's Lost, Folger Theatre, 2019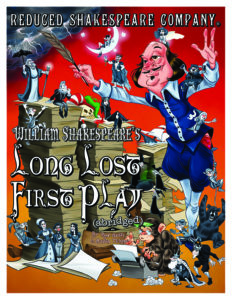 And I have most influential Shakespeare plays. Hamlet, for instance: I can't count how many different ways I've played the "To be or not to be" speech. (I mean, I probably could count them, but it's a lot.) The Tempest — its characters and its metaphors — has directly inspired both my adaptation of Frankenstein and my recent RSC script (co-written by Reed Martin), William Shakespeare's Long Lost First Play (abridged). Long Lost Shakes is also deeply influenced by Much Ado About Nothing, Henry IV Part 1, Macbeth — and Walt Disney's Fantasia.
I definitely have least favorite Shakespeare plays…but that'll be the subject of another essay.
So I guess, if forced to choose, my favorite Shakespeare play is The Comedy of Errors — 'cuz it's the shortest.
What's your favorite Shakespeare play?